All about Eye Health Heroes 2020 by IAPB.
Eye Health Heroes 2020
"The Eye Health Heroes 2020 innovative program provides the eye health sector with the opportunity to recognize and celebrate frontline eye care staff and managers of age less than 35 years, whose work and involvement in the community makes a real difference in restoring sight." – IAPB
Who are Eye Health Heroes?
The Eye Health Heroes program was introduced in 2012 by The International Agency for the Prevention of Blindness (IAPB). Since then the IAPB has been awarding the front-line eye health workers who are engaging in the community to make a real difference in restoring sight and aiding vision throughout the world.
Eye Health Heroes are the innovators, change-makers, and emerging leaders from many corners of the globe contributing with passion, purpose, and determination in the eye health sector. They are the source of inspiration to all of us to work together to make the world free of visual impairment and avoidable blindness.
Whatever profession they might be involving in, the praiseworthy deeds of the Eye Health Heroes deserve to be shared.
Every year The IAPB awards the Eye Health Heroes (selected from across the IAPB membership) in three categories: Change-Makers, Innovators, and Future Leaders.
The IAPB's International Eye Health Heroes 2020 program was launched by IAPB global ambassador, HRH the Countess of Wessex, in July, and winners have been awarded in three categories: Changemakers, Innovators, and Future Leaders. In 2020, a record 52 Eye Health Heroes were awarded ahead of World Sight Day on Thursday 8 October, from 27 countries representing a vast range of eye health workers under 35 – from optometrists to NGO and warehouse workers.
This year's Eye Health Heroes have been working on the front line tackling the response to Covid-19 as well as a number of other areas including research and development, advocacy, support services, or community and clinical aspects of ophthalmology and optometry.
Eye Health Heroes – Change-Makers
Change-makers' actions speak louder than anything. They are motivated to act. They turn good ideas into action and they keep trying until they have made a difference. From embedding eye health in health systems, changing corporate behavior, or bringing about policy change they are actively bringing positive change through their actions.
Eye Health Heroes 2020 – Change-Makers
The IAPB Eye Health Heroes – Change-makers for 2020 represent the diversity of eye health practice and the promise of what youth and new ideas can achieve in the sector. Have a look and celebrate the Eye Health Heroes 2020 – Change Makers listed below.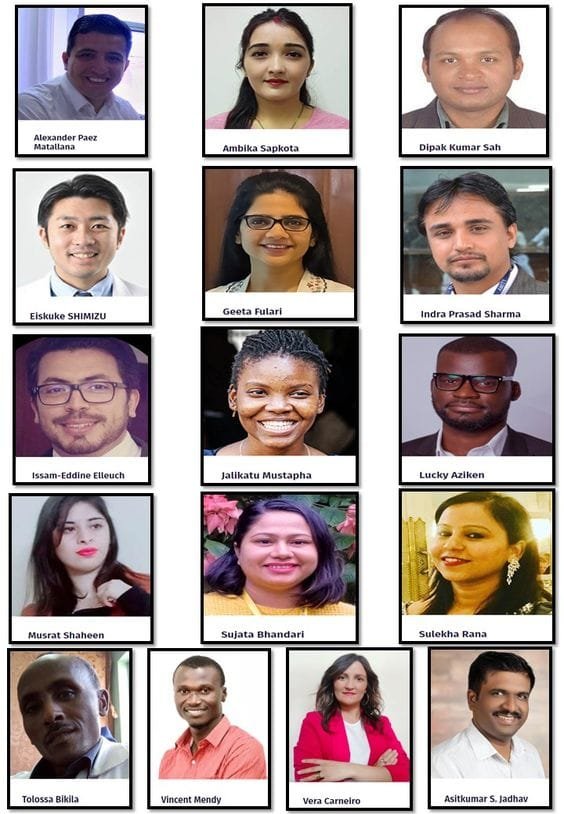 1. Alexander Paez Matallana
Project Coordinator, Fundación Vision
Blindness is very exciting to Alexander. He is passionate about managing projects that, through research and advocacy, enable communities to recover their visual capacity while at the same time strengthening all the processes related to health. All the work in the prevention of blindness caused by cataracts or ROP that he has done has one purpose: to improve the quality of life of many people.
2. Ambika Sapkota
Vision Technician, Siliguri Greater Lions Eye Hospital
The community where at first she felt afraid is now the safest place where she can be and she would do everything to improve their livelihood empowering them through better vision.
3. Dipak Kumar Sah
Spokesperson, Nepalese Association of Optometrists
Treating patients at the hospital is just like the tip of an iceberg in a sea, about 15-20 % population in Nepal. Dipak loves to go out in unattended communities to serve the poor people who cannot afford to come out of the community and cure their suffering.
INGOs and NGOs alone cannot fulfill a current growing need, there is a strong need for political will guided by policies, planning from the government sector in eye health service which can lead us to people-centric eye care to achieve Universal Health Coverage.
He persistently wants to work in the sector of policy advocacy to fulfill his dream that one day, the government will fully integrate eye health service in basic health service for primary eye care in all Local government of Nepal, and every Nepali citizen gets an eye checkup, at least once a year.
4. Eiskuke SHIMIZU
CEO, Co-Founder, OUI Inc.
Blindness is similar to the patient's death to the ophthalmologists. Moreover, preventing and treating blindness is not just improving patients' vision but also adds to their daily life. In addition, blindness and visual impairment are the number 1 cause of the daily decrease in the sensory disorder and the cost will be the same as Tuberculosis and HIV/AIDs. The reasons for world blindness are aging, shortage of ophthalmologists, and lack of medical devices. Therefore, as the CEO of the MD founded a startup, Eiskuke's vision which prevents and treats world blindness is worthwhile."
5. Geeta Fulari
Manager, Quality Assurance, Sankara Eye Care
Geeta loves to see the results achieved in Patient Safety and quality of care for all Eyecare patients. It Gives her the utmost pleasure to be contributing and providing services, especially for community patients.
She loves to collaborate with various senior leaders, managers, and medical staff to develop and achieve quality, safety, and risk mitigation strategies for the organization in alignment with the organization's strategic objectives and goals. It's very fulfilling to formulate COVID-19 safety protocols and to coordinate with team members across units to implement them in a time-bound manner and thereby ensure patient and staff safety in the current pandemic.
6. Indra Prasad Sharma
Clinical Optometrist, GCW National Eye Center
Having been born and brought up in a small village in Bhutan, Indra experienced a real-life situation of living in a remote community. It was since then, he was determined to pursue health and impact the lives of the community. Joining the Ministry of Health as the country's first optometrist was an opportunity for him to make some contribution.
Working in eye health for almost a decade, he has realized that every effort in eye health can bring changes in improving the lives of the underprivileged population. Indra is passionate about his profession and commits to taking responsibility with due diligence and integrity.
7. Issam-Eddine Elleuch
Asst. Professor, Faculty of Medicine, Tunis
What Issam-Eddine loves the most about his role is that moment when he takes the eye pad off an underprivileged blind person he operated on a day before for a cataract and just sees the smile the patient puts on his face because he regained his sight. At that moment you know that you helped make the world a better place.
8. Jalikatu Mustapha
Ophthalmologist, Connaught Hospital
As her eye pad is removed the day after cataract surgery, 74-year old Amina, bilaterally blind for 3 years, happily shouts 'Doctor, I can see you clearly". That look of pure joy and hope in her eyes is why I love my job. To be able to help people like Amina get back their sight and usually, their agency, dignity, and livelihood is an absolute blessing to me.
Overseeing Sierra Leone's Eye Care program means not only helping individuals like Amina but developing policies that will protect present and future generations from avoidable blindness in our country.
9. Lucky Aziken
CEO, Vision Care Givers International Initiative
Nothing hurts like seeing a loved one become blind and everyone is helpless. Lucky knows the feeling and he believes it can be avoided if we stood up for the vulnerable and neglected in our societies. He wakes up daily with a sense of responsibility to ensure no one is needlessly blind and he is excited when he is able to create sustainable access to quality eye care in underserved communities. Quality eye care must be everywhere as long as he lives.
10. Musrat Shaheen
Optometrist, Al Shifa Trust
"Always stay happy and hope for the best"
11. Sujata Bhandari
Clinic In-charge, NNJS LEI District Eye Center
"If you focus on reducing suffering, you will have more opportunities to empower the community."
12. Sulekha Rana
"My goal in the near future is to ensure that no commercial vehicle driver meets with an accident because of blurry vision due to the absence of eyeglasses. Through VisionSpring's See to be Safe program, I want to touch the approximately 5 million truckers/commercial vehicle drivers and allied transport workers in India with eye screenings over the next few years."
13. Tolossa Bikila
Cataract surgeon, Goba Hospital
"I am proud to work for the community who are very neglected and have challenges in accessing eye health service. I am passionate to provide outreach services where the real disadvantaged group is served. Apart from the clinical service I also contribute a lot to eye health management as an eye care department head. I believe you need to be visionary and have the persistence to serve our community."
14. Vincent Mendy
Regional Program Coordinator, OneSight
"I was born to care for and make people feel valued. Working for OneSight has been a dream come true, providing an opportunity to collaborate with people from different backgrounds. My work is centered around providing great care for our patients, partners, and staff. This care enables my team to drive vision center traffic, improve refractions, increase sales, and guide partners in their efforts to achieve financial sustainability. Every employee is deeply attached to our mission and the wonderful patients we serve. Together we continue to form partnerships to fuel our work providing access to those in need."
15. Vera Carneiro
Member, Professional Association of Optometrists
"It's because of the future and her ability to generate impact, grounded on her experience, knowledge, and enormous heart, that APLO's cannot imagine better nomination. Primary eye care changes lives and builds the future. Universal access to primary eye care improves child development, adult productivity, elderly autonomy, and the quality of life at any age."
16. Asitkumar S. Jadhav
Optometrist, Mission for Vision
"I love my job since I see it as an opportunity to serve the community at large. I am proud to be part of an energetic group that enables and allows me to learn and implement programs in a sustainable manner. It is quite endearing to work with Vision Centre staff who provide high-quality eye health services to socio-economically challenged communities in remote locations of India. I am also incredibly glad to be a part of an organization such as Mission for Vision that endeavors to eradicate avoidable blindness by enabling eye health services to communities in need."
Eye Health Heroes – Future Leaders
Future Leaders are influential performers in the eye care sector. "Future Leaders" recognizes that leaders can emerge at all levels and in all roles across eye health but share essential characteristics: they are high performers in their roles, influence others, show potential, and are open to learning and growing from each experience.
Eye Health Heroes 2020- Future Leaders
The IAPB Eye Health Heroes – Future Leaders for 2020 represent the diversity of eye health practice and the promise of what youth and new ideas can achieve in the sector. Have a look and celebrate the Eye Health Heroes 2020 – Future Leaders listed below.
1. Abhishek Kumar Jha
Program Manager, Orbis International
2. Ana Jeissy Blanquel García
Pasante de servicio social, Fundacion Hugo Nano
3. Clelia Crespo Nano
Medica Oftalmologa, Fundacion Hugo Nano
4. Evelin Grisel Morales Basilio
Optometrist, Ver Bien Para Aprender Mejor
5. Francis Chiemelie Unachukwu
Optometrist, Army Command and NAOWA Hospital
6. Grace Chew
ASEAN Philanthropy Coordinator, Essilor Vision Foundation
7.Jairo Antonio Mercado
Faculty, School of Optometry, Nicaragua
8. Junu Shrestha
Clinical optometrist, Health Foundation of Nepal
9. Lauren Hutchinson
Optometrist, Eyewear Specs
10. Luke Weinel
11. Naadhira Ndukuya
Country Manager, South Africa, OneSight
12. Patrick Ndongmo
Technical Advisor, Onchocerciasis, Sightsavers
13. Pereira Antonio Rumeque
14. Ryner Linuma
Project manager, German committee for the prevention of blindness
15. Sarhej Nava García
Ophthalmologist, Instituto Mexicano de Oftalmologia IAP
16. Shakti Prasad Subedi
Ophthalmologist, Nepal Red Cross Surkhet Eye Hospital
17. Shamim Khan
Manager, Mazharul Haque BNSB Eye Hospital
18. Sreemadhu V
Unit Head, Sankara Eye Care Institutions
19. Sumit Grover
Ophthalmologist, Manthan Eye Healthcare Foundation
20. Fatima Zehra
Project Manager, Vision Trust
21. Fanuel Nyakonda
Ophthalmic Nurse, CBM Global
22. Ming NI
The Fred Hollows Foundation
---
YOU MAY ALSO LIKE All Eye Hospitals in Nepal: Contact Details, Available Services & Address Map
---
Eye Health Heroes – Innovators
Innovators are indicators of possibilities. They embrace new ideas and create new possibilities and outcomes. They challenge the status quo and push the boundaries of knowledge to develop new approaches, systems, or appropriate technologies in eye health.
Eye Health Heroes 2020 – Innovators
The IAPB Eye Health Heroes – Innovators for 2020 represent the diversity of eye health practice and the promise of what youth and new ideas can achieve in the sector. Have a look and celebrate the Eye Health Heroes 2020 – Innovators listed below.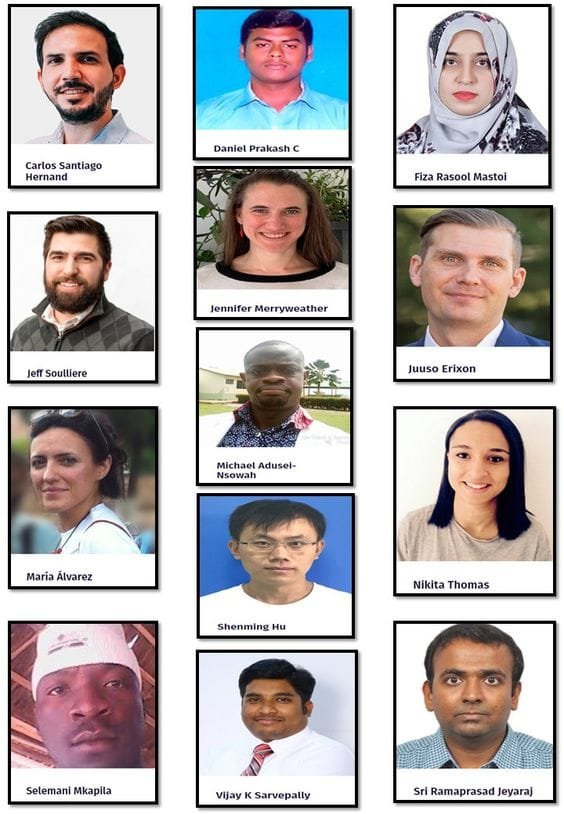 1. Carlos Santiago Hernand
Director of Engineering, PlenOptika
2. Daniel Prakash C
Manager – Human Resource, Sankara Eye Institutions
3. Fiza Rasool Mastoi
4. Jeff Soulliere
Associate Manager, Opticals, OneSight
5. Jennifer Merryweather
Senior Policy Advisor, FHF
6. Juuso Erixon
Solution Sales Lead, Optomed
7. María Álvarez
Ophthalmologist, Fundacion Elena Barraquer
8. Michael Adusei-Nsowah
Innovator, Primary Health Vision Care, Ghana
9. Murk Larik
Project coordinator, SIOVS, Pakistan
10. Nikita Thomas
Optometrist, School of Optometry & Vision Sciences
11. Selemani Mkapila
Nurse, German committee for the prevention of blindness
12. Shenming Hu
Head, R&D, He Vision group
13. Sri Ramaprasad Jeyaraj
Head, R&D, Appasamy Associates
14. Vijay K Sarvepally
Head, Optometry & Community Eye Care, PVRI
Source
https://www.iapb.org/connect/members/eye-health-heroes-2020/
---
YOU MAY ALSO LIKE: Computer Vision Syndrome (Digital Eye Strain): Symptoms, Causes, and Treatment
---
Popular Health Categories You Might be Searching For
---
Health Kura is a health website created for free health tips, updates, medical notes, and health news. The contents are only for educational purposes. If you have any complaints, suggestions, or useful information about the content on this page or elsewhere on Health Kura, please feel free to contact us.
Health Kura regularly publishes health content. If you want to receive health tips, updates, news, offers, and bonuses, please Subscribe to our Newsletter.
---
Was this article helpful?