World Sight Day 2020
Celebrated every year on the second Thursday of October, World Sight Day is the most important communications and advocacy day in the eye health calendar. As we are running on the second half of the most important year in the eye health calendar (2020), the world is observing The World Sight Day 2020 on Thursday, October 8, 2020, with the theme HOPE IN SIGHT.
World Sight Day is a daylong event that focuses on bringing global attention to blindness and vision impairment.
World Sight Day is always celebrated on the second Thursday of October.
This year, World Sight Day is on Thursday, October 8, 2020.
This World Sight Day 2020 is a joint program between the World Health Organization (WHO) and the International Agency for the Prevention of Blindness (IAPB) and coordinated by the IAPB.
World Sight Day 2020 Theme and Hashtag
IAPB, the coordinator of the program generates the theme and certain core materials for each year's World Sight Day, while members and supporter NGOs and INGOs manage individual events in every country.
» The theme (call to action) of the World Sight Day 2020 is "Hope In Sight"
» The hashtag for World Sight Day 2020 is #HopeInSight along with #WorldSightDay
World Sight Day 2020 Logo
History of World Sight Day
The World Sight Day was originally initiated by the SightFirstCampaign of Lions Club International Foundation in 2000.
It has since been integrated into VISION 2020 and is coordinated by IAPB in cooperation with the World Health Organization.
The following table depicts the call to action (theme) of each World Sight Day from 2000 to 2020.
| | |
| --- | --- |
| Years | World Sight Day Theme |
| 2000 | No Theme |
| 2001 | No Theme |
| 2002 | No Theme |
| 2003 | No Theme |
| 2004 | No Theme |
| 2005 | The Right to Sight |
| 2006 | Low Vision |
| 2007 | Vision for Children |
| 2008 | FIghting Vision Impairment in Later Life |
| 2009 | Gender and Eye Health |
| 2010 | Countdown to 2020 |
| 2011 | No Theme |
| 2012 | No Theme |
| 2013 | Universal Eye Health |
| 2014 | No More Avoidable Blindness |
| 2015 | Eye Care for All |
| 2016 | Stronger Together |
| 2017 | Make Vision Count |
| 2018 | Eye Care Everywhere |
| 2019 | Vision First |
| 2020 | Hope In Sight |
Objectives of World Sight Day 2020
Many communities, associations, and non-government organizations (NGOs) work together with WHO and IAPB to celebrate the day for the following purposes:
To raise public awareness of blindness and vision impairment as major international public health issues.
To influence governments, particularly health ministers, to participate in and designate funds for national blindness prevention programs.
To educate target audiences about the prevention of blindness and visual impairment.
Importance of World Sight Day
Why is it necessary to celebrate World Sight Day? More than a billion people around the globe can't see well as they lack access to eye check-ups and glasses. Sight can make the difference between a life of poverty and a life of opportunity. By enabling someone to see clearly, you increase their chances of living a better-quality life.
Global initiatives like World Sight Day play a vital role to bring the attention of the global population to problems and solutions of blindness and visual impairment.
Statistics about avoidable blindness risk factors
More than 90 percent of visually impaired people live in low-income countries.
Approximately 65 percent of people of age 50 and above have visual impairments (due to age-related conditions such as cataracts, refractive error, glaucoma, and many more).
About 80 percent of the world's 45 million blind people are aged over 50 years.
About 20 million children are visually impaired, of which 12 million cases are due to easily diagnosable and treatable refractive errors.
About 1.5 million children are suffering from irreversible vision loss.
How would you celebrate World Sight Day 2020
Although it's difficult to organize and participate in outdoor campaigns and rally due to COVID-19, you can utilize the internet to raise and spread awareness about World Sight Day.
Utilize social media to spread awareness
Join the webinars and online meetings held by Organizations and eye care institutions.
Join the conversations in social media using the hashtags such as #HopeInSight and #WorldSight Day.
Organize a fun contest on Instagram and ask your friends to post a picture of their favorite site, such as a family portrait, the beach, the scene of nature.
Post ideas and infographics about causes and solutions to blindness and vision impairment.
You can also submit a photo for an international photo montage that focuses on the theme of blindness.
Some people plant trees to commemorate World Sight Day.
Download logos, posters, and ribbons from the IAPD website and distribute it to your friends and social media groups.
If you are an eye care professional, you can pledge to donate a day of eye exam fees, or an amount from every frame sold or eye exam given. Bonus: publicize your donation day on social media.
World Sight Day Quotes & Messages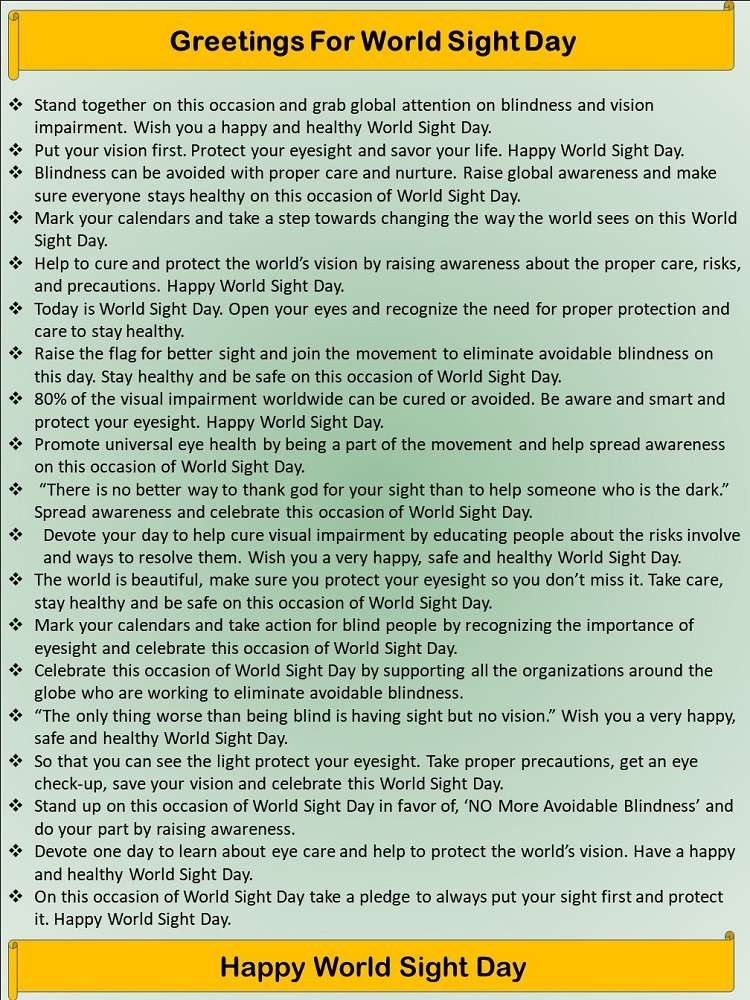 World Sight Day 2021
» Thursday, 14 October 2021
Tips to prevent avoidable blindness and preserve sight
Get regular eye check-ups.
Be aware of any family history of vision problems.
Consume a nutritious diet and do exercise regularly.
Take all eye drops and medicines, use eyeglasses and contact lenses, and do vision therapies as directed by your eye doctors (Optometrist and Ophthalmologist).
Reduce alcohol consumption and quit smoking and chewing tobacco.
Use protective eyewear to prevent injuries.
Sources
https://www.iapb.org/advocate//world-sight-day
https://thebrandboy.com/world-sight-day-messages/
https://www.enhancedvision.com/world-sight-day.html
https://www.timeanddate.com/holidays/world/world-sight-day
---
YOU MAY ALSO LIKE International Eye Health Heroes 2020 by IAPB
---
Popular Health Categories You Might be Searching For
---
Health Kura is a health website created for free health tips, updates, medical notes, and health news. The contents are only for educational purposes.
If you have any complaints, suggestions, or useful information about the content on this page or elsewhere on Health Kura, please feel free to contact us.
Health Kura regularly publishes health content. If you want to receive health tips, updates, news, offers, and bonuses, please Subscribe to our Newsletter.
---
Was this article helpful?