Ayurvedic Recipes – Great as a side dish or the main meal
Soup and salad ayurvedic recipes are a great source not only of nutrition but also balance the cold qualities of the Vata and Kapha doshas making them ideal for fall, winter, and early spring. Of course, there are also cold soups usually made with cooling vegetables and fruits that are well suited for the hot summer months.
Salads can be grain, legume, or vegetable-based and either warm or cold. Cold, raw salads are best taken at the lunch meal when your internal digestive fire is strongest, and in the hot months when there is excess external heat that is balanced by cooling foods. However, to digest raw foods you need to have a balanced and strong digestive fire.
Here, we will discuss some of the popular soup and salad Ayurvedic recipes. Let's get started.
Roasted Root Vegetable Soup
Spiced Lentil & Bulgur Soup
Hearty Vegetable, Barley, Lentil Soup
Butternut Squash-Leek Soup
Vegetarian Spinach and Greens Soup
French Vegetable Stew
Simple Summer Cucumber Salad
Roasted Corn & Black Bean Salad
Crockpot Vegetarian Quinoa White Chili
Lentil Minestrone
Soup as Ayurvedic Recipes
Roasted Root Vegetable Soup
Autumn is one of my favorite seasons. I love the change of colors, the cooler temperatures that make outdoor play less heating for me, and the wonderful soups and stews that we all naturally gravitate towards.
In Ayurveda, we treat excess by using substances of the opposite nature. Autumn is the beginning of the Vata season which is characterized by cold, windy, dry, and light. Changing our diet to add warm, moist foods like soups and stews is our inner wisdom guiding us to keep the Vata energies in balance during this time when they rise around us in the environment.
Eating a soup that is made of grounding root vegetables further adds to balancing Vata so enjoy!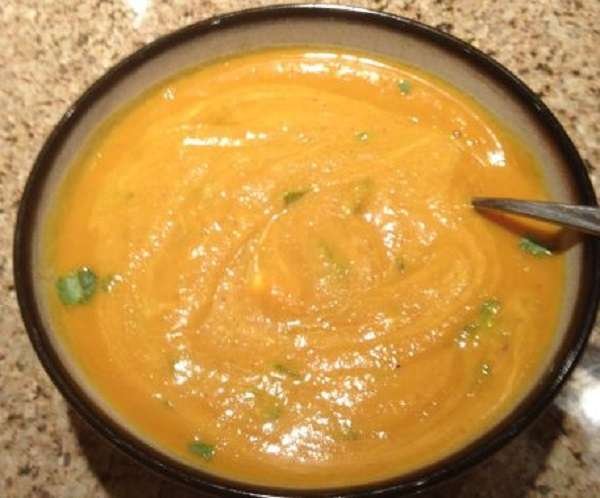 Ingredients
2 Tbsp. olive oil
2 Tbsp. ghee, melted
1 small butternut squash, peeled, seeded, and cubed
2 carrots, cut into thick rounds
1 large parsnip, cubes
1 small turnip, cubed
2 leeks, thickly sliced
2 bay leaves
1/2 tsp. each dry thyme and rosemary
1 tsp. sweet curry powder
5 cups vegetable stock
salt and freshly ground black pepper
sour cream and parsley for garnish
Instructions
Preheat the oven to 400 degrees.
Put the olive oil and ghee on a 9 x 13 baking dish with edges. Add the root vegetables, thyme, and rosemary to the baking sheet and toss to coat with oil. Spread out the vegetables to a single layer. You may need an additional sheet. Tuck the bay leaves among the vegetables.
Roast the vegetables until tender, approximately 50 minutes. Stir occasionally to make sure they brown evenly. Remove from the oven and discard the bay leaves.
Transfer the vegetables to a large saucepan along with the vegetable stock and the curry powder. Bring to a boil, season to taste, then reduce heat and simmer for 10 minutes.
Transfer the soup to a food processor or blender and process until thick and smooth.
Return the soup to the pan to heat through. Season and serve with a swirl of sour cream and a sprig of parsley.
Spiced Lentil & Bulgur Soup: Ayurvedic Recipes
This is one of my favorite ayurvedic recipes for a cold fall or winter day that combines all of the six tastes.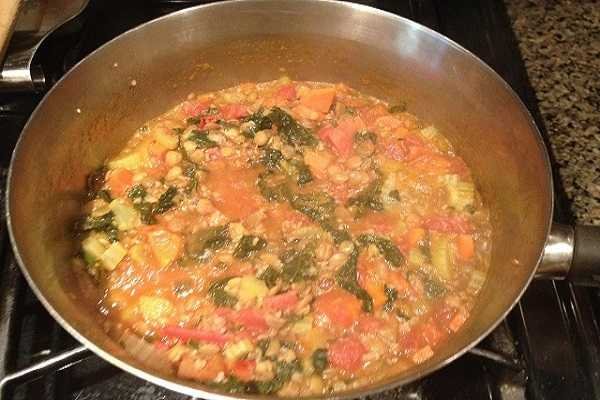 Ingredients
1 c. dried lentils
6 c. vegetable stock or water
1 tsp. salt
1/4 c. olive oil
3 carrots, cleaned and diced
3 stalks celery, washed and diced
1 leek, washed and sliced
1/2 c. washed and chopped kale stems removed
14/ tsp. cayenne
1 bay leaf
1 tsp. Mum's Masala or another sweet curry spice mix
1/2 c. ray bulgur
1/4 c. fresh parsley, chopped
2 c. chopped tomatoes (reduce or omit to decrease pitta)
Instructions
Rinse the lentils and bring them to a boil with the water or stock and salt. Reduce the heat and simmer, covered, for 40 minutes.
While the lentils are cooking, heat the olive oil in a heavy soup pot. Sauté the carrots, leeks, and celery for 4 minutes. Add the bulgur, kale, bay leaf, and cayenne pepper and continue to sauté for another 3-5 minutes until the vegetables are soft and the bulgur is lightly browned.
Mix in the parsley, tomatoes, and Mum's masala.
Pour the lentils and their liquid into the soup pot with the vegetables, adding more water or broth if needed as the bulgur will absorb the liquid. Simmer the soup for 15 minutes until everything is soft and well cooked. Add salt and pepper to taste.
Remove the bay leaf before serving.
Can blend for a smoother texture.
Hearty Vegetable, Barley, Lentil Soup
Soups bring a much-desired warmth to the chill and bitter cold of late fall and winter. Soups are not only great for a lighter dinner when the digestive fire is lower, but can also make a great lunch. But to fill you up at lunch, the soup needs to be hearty, topped with a little grated cheese, and paired with a slice of sprouted grain bread or whole wheat tortilla or you may find yourself hungry again in short order.
In Ayurveda, lunch is ideally the heaviest meal as it is when the digestive fire is strongest as well as when your nutritional needs are greatest to fuel the activities of the day. I love these ayurvedic recipes for lunch because it is not only tasty but because it has whole grains, bean protein, and a few of the heavier root vegetables. Play with your own vegetable variations and enjoy it!
Ingredients
1/2 c. lentils or mung beans (split mung beans are easiest to digest, red lentils will fall apart and add a creamier texture, beluga lentils are my favorite)
3 c. pure water
1/2 c. uncooked barley
8-10 c. pure water
2-3 whole bay leaves
1 tsp. salt
2 Tbsp. olive oil or ghee (reduce or omit to decrease Kapha)
2 organic carrots, diced
2 stalks organic celery, finely chopped
1 1/2 c. organic turnips, diced
1 1/2 c. organic sweet potatoes, peeled and cut into 1″ square dice
1 leek, washed thoroughly, and finely sliced
1 c. fresh parsley, ideally organic, chopped with stems removed
1 small bunch of organic baby spinach
1/2 tsp. dried thyme
freshly ground black pepper, to taste
Instructions
In a small pan, put the washed lentils or mung beans with 3 cups of water and a dash of salt. Bring to a boil then turn down to simmer and cook for 20-30 minutes or until the beans are soft.
While the beans are cooking, put the oil or ghee in a large pot and warm. When the oil is ready, add the vegetables – from the carrots to parsley in the ingredient list – and sauté for 5-7 minutes until the vegetables are slightly soft.
Add the washed barley, water, bay leaves, and salt and bring to a boil over high heat, then reduce to medium-low.
Simmer the soup covered for 40 minutes, adding in the lentils for the last 10 minutes of cooking.
Stir in the spinach, dried thyme, and black pepper and simmer for another 5 minutes.
Serve with ghee, grated cheese, or a dollop of sour cream, especially for Vata. To decrease pitta, use a soft instead of hard cheese and skip the sour cream. To decrease Kapha, only add a small amount of ghee and no cheese or sour cream.
Butternut Squash-Leek Soup: Ayurvedic Recipes
A wonderful nutritious soup to warm you up on the cold autumn nights. I love these ayurvedic recipes with some crusty whole-grain bread topped with ghee or a whole wheat tortilla, warmed and topped with ghee.
Ingredients
1 tsp ghee or olive oil
1 large leek, chopped and washed thoroughly
1 tsp fresh grated ginger
1/2 tsp black pepper
1 tsp Bragg Liquid Aminos or tamari
1 butternut squash, peeled and cut into 1/2-inch cubes
1 1/2 tsp curry powder
1/4 tsp garam masala
5 cups vegetable stock
1/2 cup milk (optional)
freshly grated nutmeg
fresh parsley, chopped
Instructions
Heat a large soup pot and add the oil, leeks, ginger, pepper, and amino.
Saute for 3-4 minutes on medium-high heat.
Add the squash, curry powder, and garam masala. Stir frequently.
Add the stock just so it covers the squash.
Bring to a boil then reduce the heat to medium-low.
Cover and simmer until the squash is soft.
Blend the soup in batches until smooth.
Add milk for a creamier consistency if desired.
Sprinkle with fresh nutmeg and parsley and serve.
Vegetarian Spinach and Greens Soup
One part of fall and winter I really love are the foods – warming soups, nourishing stews, hearty casseroles. These heavy, warm foods really speak to my Vata energies and help keep me in balance during the cold, windy, dry season which can aggravate Vata, the life force made up of air and ether.
This ayurvedic recipe is a fairly dosha neutral soup, meaning it is good for all body constitutions. To decrease Pitta, use chard instead of spinach or kale, reduce the tomatoes, and leave out the chili flakes. For Vata the smaller the bean the better and to decrease the air impact further, soak the lentils for at least one hour ahead of time.
I'm sure you have your favorite soup recipe, which I'd love to hear about so feel free to share in the comment section, but my motto is you can never have too many great soup recipes. With that in mind, here's one of my rotational recipes to try. To make this wheat-free, simply skip the bulgur.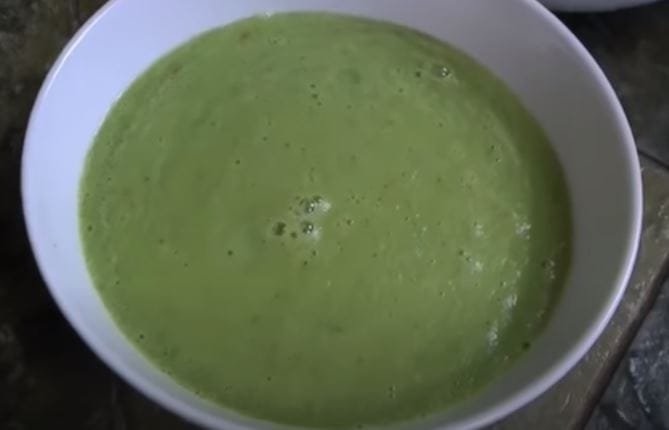 Ingredients
1 tsp. ghee or olive oil
1 c. leeks, chopped
1 c. celery, cut into ¼ inch slices
½ tsp. hing or asafoetida
1 tsp. fresh ginger, minced
1 pinch red chili flakes
½ tsp. pepper
1 tsp. dried parsley
1 Tbsp. Bragg Liquid Aminos or tamari
1 c. carrots, diced
½ c. bulgur wheat
2 t. cumin
½ tsp. allspice
1 c. lentils, French or Beluga ideal; rinse and drain
6 c. vegetable stock
2 bay leaves
1 c. tomatoes, diced
2 Tbsp. tomato paste
4 c. fresh spinach, chard or kale, chopped coarsely
¼ c. fresh parsley, chopped
lemon wedges
Instructions
Heat a soup pot and add the oil.
When warm, add the leeks, celery, and carrots along with the hing, ginger, chili flakes, pepper and dried parsley.
Sauté for 2 minutes then add the aminos and sauté for another 3 minutes.
Add the bulgur and sauté until golden brown.
Add the cumin and allspice, stirring frequently, then the lentils, vegetable stock, tomatoes and bay leaves.
Bring the soup to a boil then reduce the heat to a simmer and continue to cook until the lentils are soft, about 30-40 minutes, adding more stock or water if needed.
Add the tomato paste and spinach (if using chard or kale add about 5-10 minutes earlier than the spinach) and cook for another 5 minutes until the spinach is wilted.
Garnish with the parsley and a lemon wedge (squeeze the juice in) and serve.
Salad as Ayurvedic Recipes
French Vegetable Stew
This lovely stew is a wonderful ayurvedic recipe for fall or winter and is generally balancing to all three doshas of Vata, Pitta, and Kapha.
The Bragg Aminos, spices, vinegar and stock provide a rich base in which the flavors of the vegetables mingle into a delicious, satisfying, and healthy meal. Feel feel to play with the vegetable combinations to suit your taste or doshic needs.
Ingredients
1 tsp. ghee, olive oil or sunflower oil (sunflower oil is the lightest and best choice for K)
1/2 c. leeks, chopped (onions can be used but may be more irritation for VP)
1/2 c. celery, sliced
1 Tbsp. Bragg Liquid Aminos or tamari (K may need a small amount to minimize the salt factor)
1/2 tsp. black pepper
1 tsp. coriander
1 tsp. balsamic vinegar
1 tsp. tarragon
1 tsp. marjoram
1 tsp. dried basil
1 c. vegetable stock or water
1 Tbsp. whole wheat pastry, oat, spelt or rice flour
2 c. carrots, into half rounds
2 c. cauliflower florets
1 c. green beans, cut into 1″ pieces
2 c. broccoli florets
1/2-1 c. baby spinach
Fresh chopped parsley
Instructions
Heat the oil in a soup pot over medium heat and add the leeks, celery, aminos, spices, and vinegar, sautéing for a couple of minutes until leeks are translucent.
Add 2 Tbsp vegetable stock and the flour and stir with a whisk, working the flour into the leek mixture.
When the flour begins to brown, add the remaining vegetable stock and the carrots.
Simmer the carrots until tender, adding more stock if necessary to maintain a slightly thickened sauce.
Meanwhile, heat 4 quarts of water to a boil and blanch the cauliflower for 2 minutes.
Remove with a slotted spoon and add to the stew mix.
Repeat the process with the green beans for 3 minutes and the broccoli for 1 minute.
Keep stirring the stew frequently after each addition, covering with a lid and simmering on low while finishing the other vegetables.
Finally, add the spinach, turn off the heat, and cover the pot for a couple of minutes to wilt the spinach.
Serve over toasted millet or rice pilaf and garnish with the fresh chopped parsley. I also enjoyed this as a side dish with a grilled cheese sandwich on multi-grain bread!
Simple Summer Cucumber Salad
My garden runneth over with cucumbers and basil this summer. One plant really does feed a village! To make use of the cooling, sweet, and thirst-quenching vegetables, I make this simple salad.
You could choose to put the salad on top of some lovely lettuce greens or simply enjoy it on its own as a side dish.
Ingredients
1 large cucumber
2 Tbsp. fresh basil
1/4 c. rice wine vinegar
1/4 tsp. Soma salt
Fresh ground black pepper – a grind or two
1 tsp. light agave nectar or another natural sweetener
Instructions
Mix the vinegar, salt, pepper, and sweetener in a medium mixing bowl. Set aside.
Cut the fresh basil with scissors into thin strips by bunching leaves together in a rolled bundle then snipping. Cut further in half so basil leaves are in small strips. Add to the mixing bowl and stir.
Wash and peel the cucumber. Cut in half lengthwise then cut into 1/4″ slices. Put cucumbers bowl and mix well.
Chill for at least 2 hours or overnight for the best flavor.
Roasted Corn & Black Bean Salad: Ayurvedic Recipes
This is one of my favorite summer salads, ayurvedic recipes, for myself and for taking to potlucks.
When balanced, all the body types can enjoy this salad. However, garlic, raw onion, tomatoes, spinach, and corn are all potential aggravators for pitta, especially on a hot summer day. Omitting the garlic and onion, which I often do, and using baby spring greens instead of the spinach will decrease the pitta aggravating effect.
The larger black beans can be a little aggravating for Vata as beans are astringent or drying in nature. Making your own beans with extra soaking and cooking time and using a piece of kombu seaweed of pinch or asafetida while cooking the beans will help decrease the impact of the beans on Vata.
Ingredients
1# frozen or fresh corn
1 c. fresh cilantro, chopped
1 tsp. garlic, minced
1/3 c. red onion, chopped
2 – 15 oz cans black beans or cooked equivalent
3 Tbsp. sunflower oil
1 red bell pepper, chopped
3 Roma tomatoes, chopped
2 avocados, cut into ½" pieces
Baby spinach or mixed baby greens
Instructions
Preheat oven to 450 degrees.
In a bowl or on a sided 15 x 10 baking sheet, combine the oil and corn. Spread on the pan into a single layer and bake 18-22 minutes until the corn is a light golden brown. Stir every 5-10 minutes to prevent burning. Cool 10 minutes.
While the corn is cooking, make the dressing and set aside. Combine the other salad ingredients in a bowl, adding the avocados last. When corn is cooled, add to the salad mix and toss with the dressing. Serve immediately on a bed of greens.
If not serving immediately, refrigerate for up to 6 hours but don't add cilantro, avocados or dressing until right before serving.
Crockpot Vegetarian Quinoa White Chili
This week, I tried out a new chili recipe to go with our family's cornbread recipe. I wanted something that had the taste of chili without all the tomatoes and more vegetables. I merged ideas for this from two different recipes and am really pleased with the results.
Ingredients
1-2 medium poblano peppers (or can use canned diced green chilis in a pinch)
1 Tbsp. olive oil
1 medium onion or leek, diced
1 medium red pepper, diced
1 large zucchini, thick-sliced in quarters
1/2 head cauliflower, chopped into medium-small pieces
2 cloves garlic, minced
2 tsp. ground cumin
1 tsp. dried oregano
1 tsp. paprika
2 tsp. chili powder
1/4 tsp. ground cloves
1 tsp. Soma or sea salt
4 c. vegetable broth
4 c. cooked white beans (cannellini, great northern, butter beans) which is about 2 15-ounce cans drained
1/2 c. quinoa rinsed under cold water and drained
lime wedges
fresh cilantro
sour cream or shredded cheese
Instructions
Roast the poblano peppers. Wash and dry the whole peppers and place on a cookie sheet on high broil with the rack about 1/3 of the way from the top of the oven. Broil for 2-4 minutes, until the tops are blackened, then turn with tongs until most sides are blistered and blackened.
Remove blackened peppers and tent a large piece of foil over the top to help the papers "sweat" which makes it easier to peel off the skin.
While the peppers are cooling, warm the olive oil in a large sauté pan and cook the onions and red pepper on medium heat for 3-4 minutes. Then add the zucchini and cauliflower and cook for another 2 minutes until all vegetables are moderately tender.
Add the garlic and spices and cook for an additional minute.
Add a cup or so of the broth and stir to make sure all the flavor bits are scraped up. Pour the entire mixture into the crockpot along with the remaining broth, beans, and quinoa.
Carefully peel the skin off the poblanos and remove the skin. Leave the seeds for a hotter flavor or remove for more mild chili. Finely dice the poblano and add to the crockpot.
Stir gently to mix all of the ingredients together and cook on low for 8-10 hours or high for 3-4 hours until the quinoa is cooked and the chili is relatively thick. Add additional salt, pepper or spices to taste.
Top with a squeeze of lime, fresh cilantro, and sour cream or cheese
Lentil Minestrone
One of my favorite fall and winter soup ayurvedic recipes.
Ingredients
2 Tbs. olive oil
1 c. leeks or onions, finely chopped
2 Tbs. tomato paste
¼ c. parsley, chopped
2 cloves garlic, minced
3 carrots, diced
1 c. celery, diced
1 c. green lentils sorted and rinsed
2 bay leaves
2 tsp. salt
2 tsp. basil
1 tsp. oregano
Optional additional herbs: marjoram, dill, thyme
9 c. water or stock
Bragg's Aminos to taste
Salt & pepper to taste
2 c. small pasta, cooked separately
1 bunch greens (spinach, Swiss chard, kale, etc)
Parmesan cheese (optional)
Instructions
Heat oil in a wide soup pot with the leeks. Sauté over high heat, stirring frequently, until lightly browned, about 10 minutes.
Add the tomato paste, parsley, garlic, vegetables, and 2 teaspoons of salt.
Cook for 3 minutes then add the lentils and herbs, water, or stock and bring to a boil.
Lower the heat and simmer, partially covered, for 30 minutes.
Taste for salt and season with pepper.
While the soup is cooking, cook the pasta and boil the greens in salted water until they are tender and bright green then chop coarsely.
Just before serving, add the greens and the pasta and heat through.
Serve with extra-virgin olive oil drizzled into each bowl, a generous grind of pepper, and Parmesan cheese if desired.
---
YOU MAY ALSO LIKE: Ayurveda Massage and its Types
Was this article helpful?